US to launch trade talks on vaccine distribution
Home
Tuesday, May 4th, 2021
Pfizer vaccine anti-coved (photo by Pfizer for public use)
Dr. Anthony Fauci, Director of NIAID and Chief Medical Advisor to the President (Courtesy photo for education only)
WebPublicaPress (New York) –  The US will start talks with the WTO to get the COVID jab more "widely shared" amid pressure to waive patent rules. A German state eases restrictions for immunized people. DW (Deutsche Welle) reported quoting other news agencies. Follow DW for more. World Trade Organization (WTO) on wider distribution of critically needed coronavirus jabs.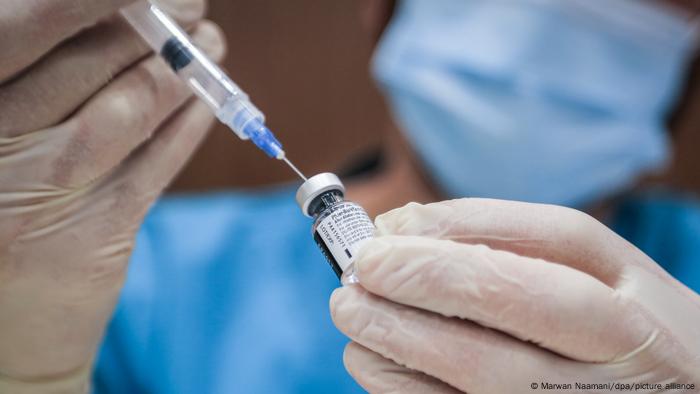 India and South Africa have pressured for a temporary waiver on COVID vaccine patents
A top White House official said on Sunday the United States would begin discussions with the
Meanwhile, Pfizer on Monday said it is in talks with the Indian government over an "expedited approval pathway" for its COVID-19 vaccine.
"Unfortunately, our vaccine is not registered in India although our application was submitted months ago," Pfizer CEO Albert Bourla said.
"We are currently discussing with the Indian government an expedited approval pathway to make our Pfizer-BioNTech vaccine available for use in the country."
Here is the other coronavirus-related news from around the world.
Europe
Germany's most populous state North Rhine-Westphalia is easing coronavirus restrictions for immunized people.
Vaccinated people and those recovered from COVID-19 no longer need to present a COVID-19 test where such a test is mandatory.
"It is a first step to put vaccinated and recovered people on an equal footing with those who have tested negative," said state premier Armin Laschet.
Germany's federal government plans to bring forward a nationwide regulation in the following days to relax coronavirus measures for immunized people.
The country's Robert Koch Institute on Monday reported 9,160 new positive tests and 84 new deaths. The national seven-day incidence rose slightly to 146.9 cases per 100,000 people per week.
Denmark has announced it would cut the Johnson & Johnson vaccine from its coronavirus inoculation program over blood clot concerns.
The Danish Health Authority said that the European Medicines Agency (EMA) "has concluded that there is a possible link between rare but severe cases of blood clots" and the Johnson & Johnson drug.
"The Danish Health Authority has concluded that the benefits of using the COVID-19 vaccine from Johnson & Johnson do not outweigh the risk of causing the possible adverse effect … in those who receive the vaccine," the authority said in a statement.
Officials said Denmark would rely only on the BioNTech-Pfizer and Moderna vaccines and that the coronavirus was currently "under control."
"The vaccination rollout is progressing satisfactorily with other available vaccines," the health authority said.
Germany's vaccination campaign picks up speed
In France, a maximum of 1,000 spectators will be allowed to attend the French Open tennis tournament, with the courts' capacity capped at 35%.
The limit will be raised to 65% and 5,000 fans from June 9, in time for the quarter-finals in the tournament, France's Sports Minister Jean-Michel Blanquer said on Sunday.
Poland on Monday submitted its EU COVID-19 recovery plan for approval by the European Commission, which will have two weeks to review the plan. The Polish government, which put the plan forth with the support of the left-wing opposition rather than coalition centrists, wants to put the €58 billion ($70 billion) it expects to receive from the bloc toward locally run hospitals and housing projects, as well as on farm subsidies, school and hospital renovations, and road and rail infrastructure projects.
North America
Embattled New York Governor Mario Cuomo has announced that the city will begin to lift most
capacity limits on various establishments and events as well as a return to 24-hour subway service.
Cuomo said retail stores, food services and gyms would become exempted from limits beginning on May 19 in New York and neighboring Connecticut and New Jersey. Around the clock subway service will resume on May 17.
Asia-Pacific
Malaysia has detected its first case of the coronavirus variant first identified in India, the Health Ministry reported on Sunday.
The announcement came just days after Malaysia imposed a ban on flights from India.
The variant, B.1.617, was detected in an Indian national screened at the Kuala Lumpur International Airport, according to the Health Ministry.
Australia has started vaccinating people over 50 with the AstraZeneca coronavirus vaccine,the Health Ministry said.
Middle East
Kuwaiti citizens who have not been vaccinated against COVID-19 will not be able to travel abroad from May 22, the country's information ministry has said.
People in age groups ineligible to receive vaccinations are exempt from the measure. Foreign citizens are still banned from entering the Gulf country.
Kuwait suspended flights from India 10 days ago due to the spike in infections there.
Africa
Morocco, which has generally shut itself off from outside travelers as well as implementing curfews to curb the spread of the coronavirus, has registered its first two cases of the Indian variant B.1.617 according to the country's Health Ministry. The ministry says two individuals have been found to have the infection and been isolated, adding that all of their contacts had been notified and "taken care of in accordance with the international and national protocols."
South Africa is set to receive 4.5 million BioNTech-Pfizer coronavirus inoculations by June, Health Minister Zweli Mkhize said in a statement on Sunday.
The first batch of 325,260 doses was expected to arrive in Johannesburg on Sunday night, Mkhize said, with a similar number expected weekly until the end of this month.
The country is the continent's worst affected by the coronavirus pandemic, with over 1.5 million infections, including 54,406 deaths.
Only 318,670 people in South Africa, mainly health care workers, have been vaccinated so far, according to AFP.
South Africa's bumpy vaccination rollout 
Earlier this year, South Africa sold AstraZeneca doses it had purchased amid fears that it would be less effective against a local variant of coronavirus. The government said it was also expecting more Johnson & Johnson doses from a local plant by mid-May.
Short URL: https://webpublicapress.net/?p=33536