Mercenaries in Ukraine
EUROPE
Saturday, February 19th, 2022
By Nemanja Rujević (DW) Berlin – Serbian fighters fight side by side with pro-Russian separatists in eastern Ukraine. According to Belgrade, they're not the only ones active in Ukraine, either.
The separatists declared that two tanks – including the crew – and other military equipment were destroyed in the fight.
Participants in Crimea
The media has reported that Russian, Chechen and Cossack mercenaries are supporting the pro-Russian fighters in Ukraine. Russia's RIA Novosti news agency wrote that even two "anti-fascist" Spanish and one Czech volunteer showed up.
The Chetnik unit in Ukraine has 46 members, including Russians and a Bulgarian, according to Zoran Andrejic, deputy president of the Serbian Chetnik movement. Serbian guerillas fought in WWII under the name Chetniks, as did Serbian paramilitary troops in the Yugoslav wars in the 1990s.
Andrejic claims that his comrades flew to Moscow in mid-July, from where they supplied Luhansk with humanitarian aid.
"At the Ukrainian border, our men received weapons to protect the convoy," he told DW. "At Luhansk airport, the entire convoy came under massive artillery fire and three of our comrades were injured."
As a result, they decided to create the "New Russian People's Militia." The Chetniks never received money for their operation, Andrejic said, adding they also never demanded payment.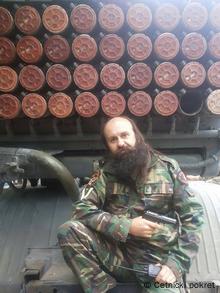 Zivkovic commands Serbia's Chetnik movement
The Chetniks in Luhansk are battle tested, with many having fought in the bloody Yugoslav Wars. "We didn't send inexperienced boys to Ukraine," Andrejic said.
He added that many Russian and Cossack volunteers "defended Serbian lands" in the past. The former military leader of the self-proclaimed Donetsk People's Republic, Igor Girkin, is said to have fought for the Serbs in the Bosnia War, where he met his present Chetnik comrades. Better known by his nom de guerre "Strelkov," Girkin quit his post on Thursday.
Mercenaries on both sides 
But Belgrade-based security expert Zoran Dragisic said the mercenaries are more interested in money than in ideals.
"They are after all mercenaries that are recruited worldwide for wars," Dragisic told DW. "At the start of the century, they marched through war zones in Africa – today, they are headed to Syria, Iraq and Ukraine."
Serbian mercenaries are often referred to as "war dogs". But the security expert argues that Serbia's difficult economic situation isn't to blame for the mercenary movement, since even prosperous nations like Germany and the Netherlands grapple with "war tourism."
"It's indoctrination that draws young people – some of them almost children – to war," Dragisic said.
Ninety-nine percent of the Serbian fighters in Ukraine are mercenaries, Serbian Prime Minister Aleksandar Vucic told reporters in Belgrade. Several dozen are fighting on the side of the separatists, Vucic said, adding that several dozen are also fighting for the Ukrainian army.
"They should go back home and take care of their families instead of fighting for third parties' interests – even if they make 2,100 or 6,500 US dollars, depending on what side they're on," the prime minister said, without commenting on his source for the above information.
Belgrade plans to pass a law that penalizes participation in a foreign war. The draft law is aimed at Serbian fighters in Ukraine as well as Muslim Serbs fighting alongside jihadists in the Mideast. Until the law takes effect, Serbian mercenary fighters can return home without having to fear penalties.
Chetnik Bratislav Zivkovic is already planning his return to Serbia – because he expects the fighting to come to an end soon.
Short URL: https://webpublicapress.net/?p=34338