Melania's Shoes Trouble Afoot
ARCHIVE, ART & POLITICS, COMMENTARY
Monday, January 16th, 2017
First lady Michelle Obama meets with Melania Trump for tea in the Yellow Oval Room of the White House, Nov. 10. (Photo credit - Chuck Kennedy / The White House)
Amra Sabic El-Eayess (Author's photo WPP file)
By Amra Šabić-El-Rayess – During the recent Presidential campaign, Melania Trump was presented with a pair of specially crafted stilettos by Bosnia's Serb shoemaker Bema in her (and her husband's) preferred color of white. Bosnian Serbs hope that their shoes will usher a new era into the White House. The imminent First Lady invited Bema's president to visit after the election.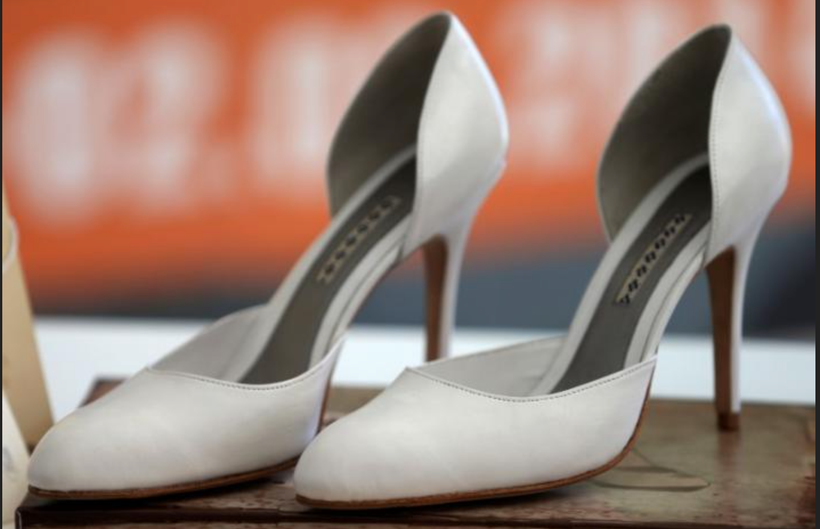 The leather, the design, and the style stem from the region where Serbs erected Holocaust-like execution camps for Bosnian Muslims (Bosniaks) and Bosnian Catholics (Croats) to cleanse Bosnia from non-Serbs in 1990s. Melania's clean white shoes were crafted with the same precision and dedication Bosnian Serbs feel toward the cause of a religiously pure Greater Serbia.
Bolstered by Trump's fear of Muslims and his affinity for Serbs' closest ally, Putin, Bosnian Serbs are now empowered with a new kind of audacity. They've planned a referendum to secede from Bosnia, as early as this year. Bosnia and Melania's native homeland, Slovenia, were sister republics in the former Yugoslavia, where Melania grew up prior to that country's violent dissolution in early 1990s. Putin's growing reach into the Balkans and a possible establishment of a new Serb state would allow Russia to shake up the stability of Europe.
Putin has supported referendums in the countries he strategically targeted. In 2014, Russian-influenced Crimea held a referendum, proclaiming the region's independence from Ukraine. South Ossetia is planning a referendum on whether to annex its territory to Russia in an attempt to finalize its secession from Georgia. Putin actively supports separatists and is likely to do that in Bosnia. In early 2016, Dmitry Rogozin, Russia's deputy prime minister, confirmed that Russia will expeditiously respond to Serbia's requests for weapons, including providing Serbs with the surface-to-air missile system.
Last fall, Putin met with the Bosnian Serb leader, Milorad Dodik, and promises were exchanged for Russia to equip and train the police force in the Serb-dominant portion of Bosnia. Russian banks have been equally present in propping up the economy of this Serb-dominated part of the country. In 2008, "Inter Rao UES," one of Russia's largest publicly traded energy companies, committed to investing $785 million in the Serb area's energy sector alone, nearly 3300 percent of the U.S.'s annual aid to Bosnia as a whole.
And so, the question "Whose shoes will the new First Lady wear at the Inauguration?" isn't one exclusively for the Style and Fashion section. Will she be shod in Ivanka's latest? Will Ivanka tweet the style and price to a million millennial fashionistas in real time as Melania walks the red carpet at the White House? Will Vlad be waiting and watching the red carpet back in the original Red State? Will Melania find her inaugural footing in a shoe of the Serb people?
By comparison, Michelle Obama paired her 2008 sun-filled inaugural outfit, by Cuban-born Isabel Toledo, with green leather low-heeled shoes fashioned by Jimmy Choo, a Malaysian-born shoemaker who funded his British education by sweeping floors at a shoe factory. Michelle flashed her smile while waving to the hopeful world in J. Crew's olive green leather gloves — her own olive branch to a waiting, anxious world.
Michelle followed in Eleanor Roosevelt's footsteps in her preference for functional shoes comfortable for the long, hard climb still facing women in American politics. In her time, Eleanor wore her sensible footwear to teach poor Italian and Jewish immigrants in the Rivington Street Settlement House in Lower Manhattan. She wore shoes that a nurse who stands on her feet all day could appreciate. Eleanor wore the same sensible shoes to visit injured soldiers at the naval hospitals during the war.
For Eleanor, niece of Theodore Roosevelt and a woman no less to-the-manor-born than her husband, indistinct and serviceable specimens with low heels reflected her lesser regard for appearances. Instead, she advocated for women's social mobility and economic prudence in FDR's White House.
Of course, America has no lock on First Ladies. Wives of Russian premiers tended to shun the limelight, until Nina Khrushcheva accompanied her husband Nikita on a trip to the U.S. and had the incredible misfortune to be photographed next to the future Jackie O. Jackie looked fab, natch, in black. Nina looked like Ma Kettle in a sort of flowery sack number. The 1961 photo caused a furor back in Russia. Suddenly, looking stolidly proletarian wasn't so chic as it once was.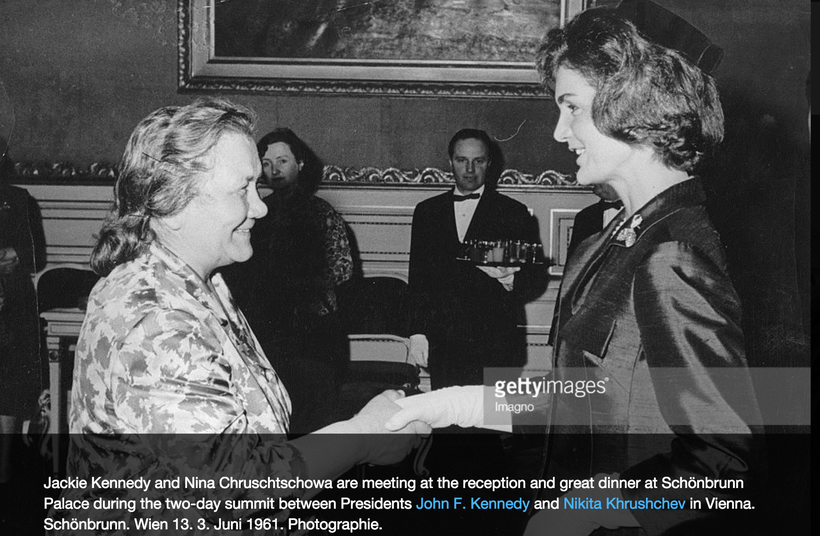 By the time Lyudmila Putina arrived, she was causing a commotion for wearing a bigger-brimmed hat than Queen EIizabeth II, with a somewhat sheep-faced Vlad separating the two ladies in that snapshot.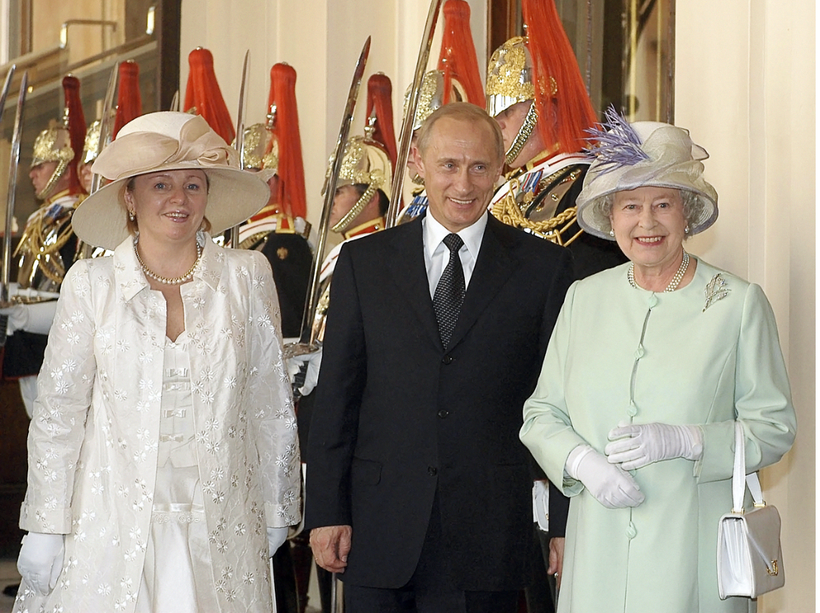 Similarly, the 2017 inauguration would not be the first time one of Donald Trump's wives had inspired the perspiration of nation. Marla Maple's shoes so intoxicated her publicist, Chuck Jones, that he confessed to an illicit affair with her insoles. Tabloids followed Mrs. Trump's instep everywhere for months during the 1994 trial that wrung as much ink out of the press as Imelda Marcos and her infamous collection.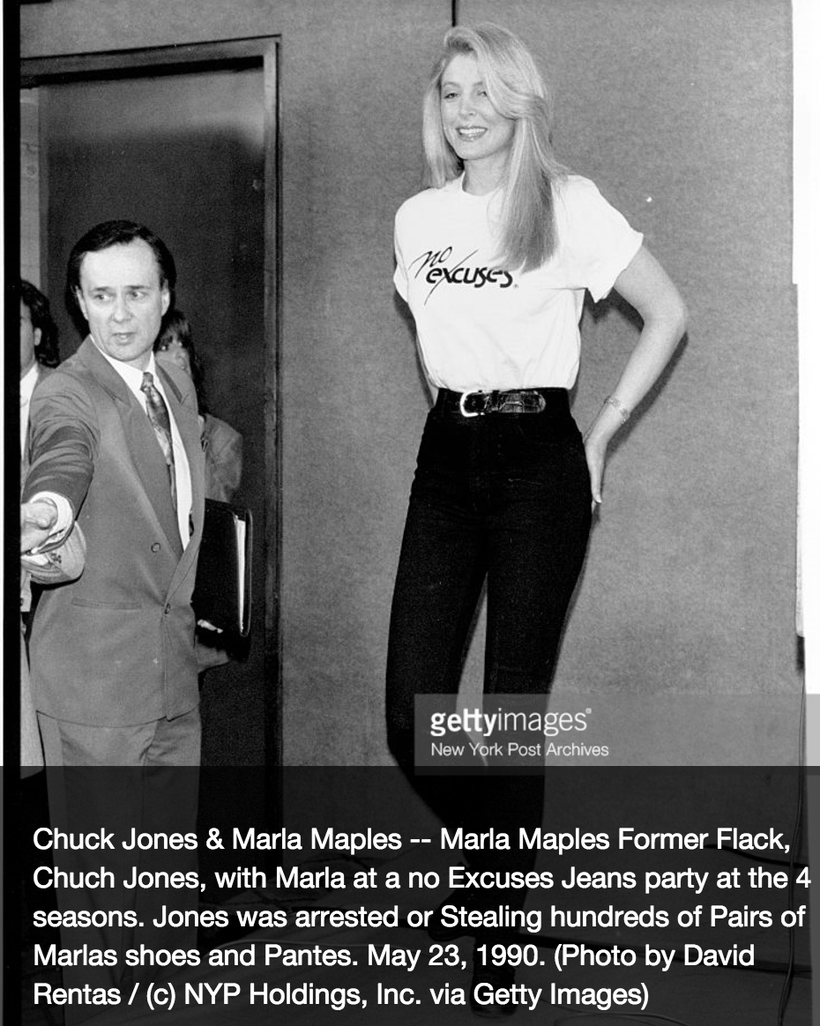 Melania's Inaugural shoes, in their stylish turn, may signal that Bosnia is once again up for grabs. Will her choice of stilettos encourage Bosnian Serbs to secede from Bosnia? And Russia to more bluntly engage in drawing new borders in the Balkans? Secession would trigger another bloodshed in the heart of Europe and a region already infused with pain and suffering. Our only hope is that America's new First Lady spends the remaining days before her coronation reflecting on the gravity of her every step. (HFP)
Short URL: https://webpublicapress.net/?p=26931