Hadžifejzović – Kusturica
MEDIA WATCH
Wednesday, April 11th, 2012
(Webpublicapress) — U rijetko vidjenom TV intervju što je zapravo odavno trademark TV novinara br. 1 u BiH, a vjerojatno i u širem regionu – Senada Hadžifejzovića sa anatemisanim sarajevskim rediteljem svjetskog glasa Emirom Kusturicom — sve je iskrilo od obostrane žestoke polemike – "lucida intervale" dvojice žestokokih intelektualaca i maestra u svom poslu.
Nisu se štedjeli u pitanjima i odgovorima, ali su se uvažavali, i svakako podigli razinu dijaloga – često svedenu na žovijalni, ali isprazni sarajevski "šatro" model. I prije su ljudi kritikovali Sarajevo, posebno rodjene Sarajlije. No, Kusturica je najistrajniji, pa i najbezobrazniji u tome. Ipak spreman je po svmu sudeći odgovarati pred "Sudom svoje raje", jer drugi sud ne priznaje. Dobar povod, koji je Hadžifejzović u 28 minuta otvorenog razgovora maestralno iskoristio.
Ah to Sarajevo
Sjećam se kad je i Miljenko Jergović jednom iz Zagreba poručio kako je Sarajevo "grad za ljenčuge". Sjećam se i drugih kojima je (uostalom kao često i meni) teško padala sarajevska dodvorljivost dok im trebaš. A nezainteresiranost – kad iste sitne šičarždije pomisle da su našli "novog lipicanera za jahanje". Problem Sarajeva je doista ponekad u sitnom duhu koji povjeruje, kako je onog šutljivog, ipak uspio zajebuniti. Uostalom Sarajevo je uvjek imalo više sreće sa svojim velikanima, nego oni sa svojim gradom.
Valja reći da je Senad po prvi put, prije svih nas (koji se ovim novinarskim poslom bavimo) uspio, od – tog "crnog djavola" zvanog Emir Kusturica, dakle od Kuste, naizgled "sarajevskog jalijaša" koji se "sa dva smješna trna, kao ruža" brani – ipak izvući sve ljudsko što je u njemu.
Lucidni odgovori
I sve ga uspio ga pitati! Kao – pa šta ti je bolan, što nikad ne kritikuješ Srbiju ili Beograd na taj način na koji to radiš sa Sarajevom? I dobio odgovor, koji nekako "pije vode". Ili: Zašto pjevaš o Karadžiću i "Dabić Raši"…? I opet dobio neočekivano priznanje, pa i kontemplaciju o kojoj treba razmisliti, kako se krivica za ratove ne može reducirati samo na nazlokobnije pojedince, jer u konceptu raspada stare Jugoslavije bio je "zacrtan" je rat kao sredstvo kojim se došlo do (nečijeg) cilja.
Sve je to Senad uspio sa Kustom. Kusturica doista razmišlja o planetarnim problemima zadržavajući namjerno to surovo balkansko agregatno stanje duha.
"Koliko si bio iskren u svojim javljanjima iz Pariza u aprilu 1992.?," "Gdje je puklo između tebe i Sarajeva?", "Da li si se odrekao Sarajeva?" "Zašto provociraš Sarajevo i Sarajlije" samo su neka od pitanja koja je Emiru Kusturici postavio Senad Hadžifejzović u intervjuu koji je emitovan u programu FACE tv. POGLEDAJTE INTERVJU, koga preuzimamo sa Depo portala!
Odškrinuta sarajevska kapija
Jedno je sasvim sigurno: Senad je s ovim intervjuem odškrinuo sarajevsku kapiju Kusturici. Sada ovaj naturalizovani "Beogradjanin" ima sve tanji albi da svoj rodni grad namjerno zaobilazi, bez obzira što je kako sam kaže "počasni gradjanin u 45 svjetskih gradova", pa se sarajevo valljda mora ponizno njemu pokloniti, a ne obrnuto. Kad pošteno razmisliš – tako mu i dodje!.
No, nakon intervjua sa Senadom – Emir kao da ne može to više pravdati odsustvom poziva od strane gradskih vlasti. A Sarajevo se mora vratiti civilizacijskom kodu po kojem u njemu mora biti mjesta i za (intelektualnu) koegzistenciju sa svima onima koji drugačije misle. Tolerancija se sastoji i u tome! Antologijski intervju u svakom slučaju (Erol Avdović)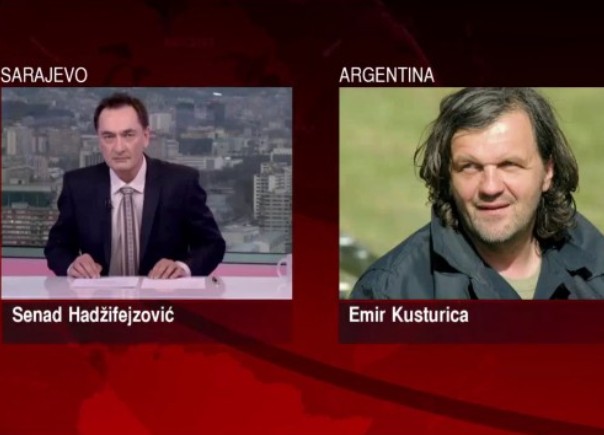 Izvor: DEPO PORTAL – BLIN/a.k.
Short URL: https://webpublicapress.net/?p=10586