Could Donald Trump be Impeached in 18 Months
ARCHIVE, COLUMN
Monday, January 16th, 2017
(WEBPUBLICAPRESS) New York — Donald Trump 'highly likely' to face impeachment within first 18 months as US President, expert warns, various news sources reported quoting academics. Proceedings would indicate cataclysmic rupture within Republican party, unprecedented in history of American politics
Donald Trump is "highly likely" to face impeachment within 18 months of taking office, an expert in American politics has warned.
The President-elect deflected the latest wave of explosive allegations to rock his administration on Wednesday during his first news conference since his election, adding to the growing list of scandals that emerged during his campaign.
The Republican leader denied claims by a former British spy that Russian intelligence agencies had compiled compromising material on him of a sexual nature. The dossier also allegedly pointed to links between the Kremlin and his campaign, exposing one of the world's most powerful leaders to blackmail.
Professor Angelia Wilson, from the University of Manchester, believes the trail of scandals in the President-elect's wake has become an "embarrassment" to the Republican party, leaving him vulnerable to impeachment by members of the party seeking reelection to the House.
"I think it is highly likely that he will be impeached in the first 12 to 18 months," she told The Independent.
"Whether it will be about the Russia dossier or other scandals that are undoubtedly there, he has become a liability for the Republican party. At some point they will need to distance themselves from him in order to solidify reelection for the House."
In the US, impeachment is the first step in a constitutionally sanctioned two-stage process to remove a president from office for committing "treason, bribery, or other high crimes and misdemeanours".
However, it is also inherently linked to a president's popularity with the core electorate, and support from within their own party.
Mr Trump's cabinet nominees have so far broken with him on almost every major policy proposal, including his pro-Russia stance, leading some to question as to how this shift will affect congress support of the leader.
Incoming Defence Secretary General James Mattis claimed President Vladimir Putin was trying to "break the Northern Atlantic alliance" and that the US needed to take steps to defend itself at his Senate confirmation hearing.
Professor Wilson said: "I cannot imagine the military leaders up for appointments are going to suddenly become friends with Russia, they are going to continue to hold a question mark over any attempt by Trump to create some kind of 'special relationship' with Putin.
"However, congress seems to be living in a different ethical universe to the time of Richard Nixon, so where they will draw the line and say 'now it is time to think about impeachment' is the question."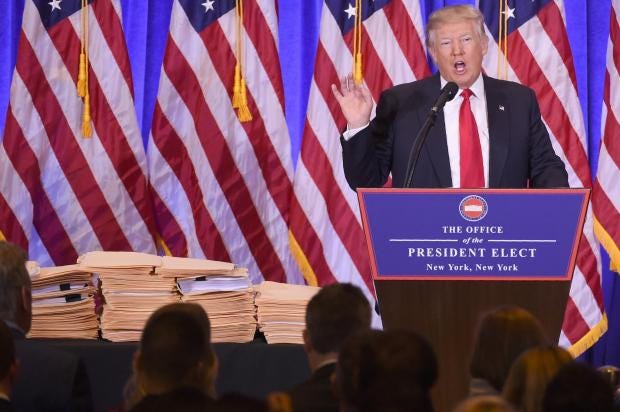 Political science Professor Terrence Casey at Rose-Hulman Institute of Technology said impeachment was undoubtedly a "political act", necessitating a shift in public confidence.
"Impeachment means criminal offences, so in that sense it's not about public support," he told The Independent.
"It is also a political act. Bill Clinton's impeachment proceedings could only occur because you had an opposition party in control of congress. In the case of Trump, you would have to convince a Republican congress to impeach a Republican president, which would fail if he still had public support – like it did with Clinton, and it would succeed if he didn't – like in the case of Nixon's resignation."
Professor Wilson said support would be likely to waver if claims that Moscow had compromising material on the President-elect were proven to be true.
"The crunch will come if Putin really does have some sort of blackmailing power over Trump," she said.
"For now, the Christian right and Tea Party Republicans like Ted Cruz are getting to play a significant role in setting the political agenda, so they are not going to get rid of Trump in the short term."
Dr Jennifer Hudson from University College London's department of political science said the Tea Party movement stood to benefit most under a Trump administration, decreasing the likelihood of impeachment.
However, she believes Mr Trump's business dealings put him at risk of conflicts of interest.
Mr Trump announced on Wednesday he would be transferring control of his company to his sons, although the plan falls far short of what ethics experts advised.
"What will get him in more trouble more quickly is his financial interests and whether he is violating the emoluments clause. I suspect he will be given some opportunity to be compliant so it will be months, if not six months or so, before people are going to get properly fed up and start demanding formal proceedings," Dr Hudson told The Independent.
However, Professor Casey said this could be a case of "wishful thinking" by long-time critics of the Republican leader.
"He will be president for four years, period. Unless he decides to go away, or is impeached, then you can't get rid of him," he said.
"Are there potential things where that could happen? Especially with his business dealings, that is a possibility, but I would caution the difference between possibility and probability."
Dr Hudson said Mr Trump's ability to play the media means allegations of fraud and at least 15 accusations of sexual misconduct since the 1980s, do not seem to stick in the minds of his voters.
"The great thing about Trump is that people haven't figured out how to play him at the media game. It's very difficult to make anything stick to him," she said.
However, Republican senators, and longstanding Trump critics John McCain and Lindsey Graham, seem determined to push for greater transparency surrounding at least some of Mr Trump's dealings.
Both are calling for an investigation into Russian hacking by special select committee, and Mr McCain admitted to handing the salacious, yet unverified, Russian dossier to intelligence officials.
"These are old-style Republicans and we can look to them as some sort of voice of rationality in all of this. The problem is they have very little power in a congress being heavily led by more right-wing Tea Party Republicans," Professor Wilson said.
Ultimately, an impeachment of the 45th president would indicate a cataclysmic shift in the history of politics – a never-before-seen rupture between an American leader and their party.
"Even that small-c conservative will want to give this guy a chance, because the consequences of impeaching a president in the first 100 days is just so far out of the norm," Dr Hudson said.
Independent
<div "="">
Short URL: https://webpublicapress.net/?p=26927