Airbus Compete Boeing
Home, PANORAMA
Thursday, December 16th, 2021
WebPublicPress (New York) – Australian airline Qantas has chosen twinjets by European builder Airbus to modernize its fleet. The decision is a setback to US planemaker Boeing, which supplies much of Qantas' domestic fleet at present, Deutsche Welle (DW) has reported quoting other news sources.
The Australian flag carrier Qantas on Thursday announced it would buy 40 Airbus aircraft as the start of a larger plan to renew its domestic fleet.
The selection of European multinational Airbus as the preferred builder for the airline's single-aisle domestic fleet comes at the expense of Airbus' US competitor Boeing.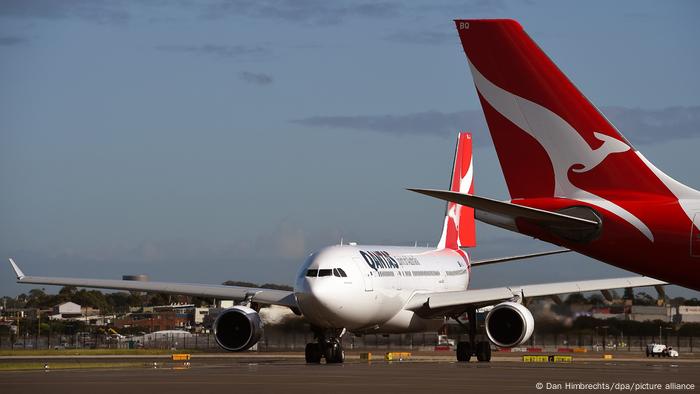 Qantas already has some Airbus jets operating on domestic routes, but most are Boeing
Why is the deal important?
Qantas said the in-principle deal, when finalized, would represent the largest aircraft order in Australian aviation history.
An initial order of 20 A320neos and 20 Airbus A220s is planned with purchase options on a further 94 jets further down the line.
The planes would replace an aging fleet of Boeing 737s and 717s on Qantas' and Qantaslinks' domestic routes. Deliveries would begin in mid-2023 and continue over the next 10 years.
The agreement is still subject to board approval, expected by next June 2022 after negotiations with pilots and the finalization of the business case.
Qantas cuts costs to bounce back after pandemic
Post-pandemic takeoff plan
Qantas Group CEO Alan Joyce said the airline was at a crucial juncture. The Australian firm has been battered by the coronavirus crisis, during which Australia closed its borders for much of the last two years.
While the company on Thursday announced it was about US$4 billion (€3.54 billion) in debt, it said domestic capacity was expected to return to pre-COVID levels by March next year.
"Qantas is in a position to make these commitments because of the way we've navigated through the pandemic, which is a credit to the whole organization."
Financial details of the deal were not disclosed.
Airbus manager Christian Scherer said he looked forward to the delivery of the new Qantas fleet and to working with the Australians.
Long history with Boeing
The order is something of a blow for Boeing and its 737 MAX aircraft, which was hit by a fall in sales even ahead of the coronavirus pandemic after two major crashes that also resulted in flight bans.
Qantas has operated Boeing jets since 1959 and was once the world's only airline with an all 747 fleet.
The US planemaker still supplies Qantas' long-haul 787 Dreamliners. However, Qantas is separately looking at Airbus A350 widebody planes, which would be capable of the world's longest commercial flights from Sydney to London.
A decision on that is expected next year.
Short URL: https://webpublicapress.net/?p=34032