Amerikanci se još pitaju
BALKANS
Sunday, March 25th, 2018
Piše: Erol Avdović (Dnevni avaz) — Na tamo neki, očito, imaginarni "ruski" Balkan stigla je sasvim jasna američka poruka! Aleksandar Vučić poručio je ravno iz Njujorka da je Srbija spremna na finalni kompromis oko Kosova. Dogodilo se to baš kad su rusko-srpski "Noćni vukovi" ono, kao, ustalasali Banju Luku. No, u američkoj Evropi Bosna i Hercegovina ostaje zemlja gdje Rusi mogu pokušavati, ali nemaju snage ponuditi bolju alternativu od EU i NATO-a.
Ponajviše zbog njih, panslavenski politički folklor, umjesto u mnoštvo raznolikih civilizacijskih boja, pretvoren je u konstantno morbidno vučije zavijanje; doista su pretjerali. Vučić to zna, a uskoro će potpisati i finalno pomirenje s Albancima, pa će taj, hajde da ga simbolično nazovemo – "ilirski ferman" dobro doći i Bosancima. Taj će srpsko-albanski dokument biti mnogo važniji s obje strane Drine nego pompezno najavljivana "deklaracija o ćirilici".
Znači, Amerikanci se još pitaju. Potrajat će to još!
U nedavnoj studiji o postameričkoj Evropi "Brookings Institut" iz Vašingtona navodi tri alternative između kojih će Amerika birati: SAD se prema Evropi mogu ponijeti rivalski, kao prema konkurentu, jer, kako kaže predsjednik Donald Tramp (Trump), sve se na kraju "svodi na novce". Ali takav tretman Evropljana bio bi samo kratkoročna dobit.
Amerika može odabrati da zanemari separatizam, koji u Evropi pothranjuje i Moskva, plaćajući gubitnike poput Marine Le Pen ruskim petrodolarima. Ali Amerika može da se vrati i svojoj liderskoj ulozi, igrajući na duge staze, kao što to već dugo radi, planirajući barem stotinu godina unaprijed. Važno je samo pažljivo kalibrirati svaki blagi zaokret, bez obzira na trenutnu trapavost Trampove administracije.
Naravno, bolje joj je da što prije uradi ovo treće, jer neke bivše zemlje sovjetskog bloka, sada članice EU, "sve se više okreću Rusiji", kako to piše "Associated Press", navodeći Poljsku, Češku, Slovačku i Mađarsku. Nema šale, Rusija se upetljala i u izbore u Americi, Njemačkoj i Italiji, a pokušat će i drugdje.
Za divno čudo, Balkan bi zato mogao (p)ostati uspješna priča američkog otrežnjenja: bez obzira na posijane sumnje i val nove rusofilije, očekivano je da će u našim zemljama demokratija pobijediti, odbacujući Putinov sistem jednog čovjeka.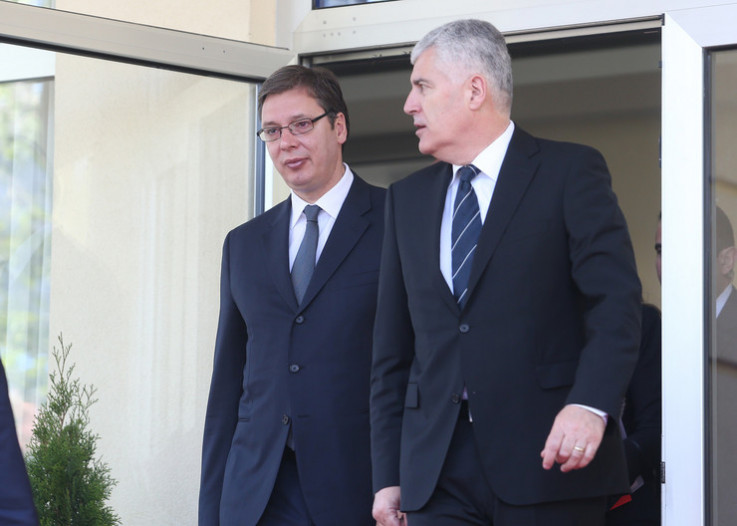 Vučićev vokabular će se još prilagođavati, Čović mora odlučiti je li doista za "Europu" ili za "Jevropu"
Potemkinova sela
Dakako, znamo kako su se okončavali takvi projekti s "očevima" nacije, liderima koji su od ljudskih prava, vladavine zakona i izgradnje institucija – temelja bez kojih nema moderne države – napravili Potemkinova sela. Na ovu metaforu valja podsjetiti nakon nove Putinove izborne pobjede kojom je šef ruske države birače nahranio iluzijama o novoj, moćnoj i ekonomski samoodrživoj Rusiji – njemu sličnih oligarha.
I ruski vojskovođa Grigorije Aleksandrović Potemkin na putu do Krima kuda se kretala carica Katarina u 18. stoljeću opustjelu je stepu pretvorio u "Diznilend"; sagradio je lažna sela sa sretnim seljacima (manekenima), prikazujući obnovu Rusije, koja je ustvari – grcala u dugovima.
Vučić, kojem se još gleda kroz prste zbog autokratskih tendencija, zbog važne misije koju treba obaviti, iz Njujorka je poslao miješanu poruku. Najavio je da će on biti taj koji će priopćiti neprijatnu istinu oko Kosova; ne plaši se, kaže! Vokabular će, očito, još neko vrijeme prilagođavati onome što u Srbiji, pa i u komšiluku vole čuti.
Nakon susreta s generalnim sekretarom UN-a Antoniom Guteresom (Guterres) javio je da je razočaran stavovima vodećih zapadnih zemalja. Malo je, dakle, ostalo prostora za vučije zavijanje, a i politička zima će ubrzo okopniti bez obzira na zakašnjele proljetne snjegove. Kosovo je republika. I tu je da ostane. Bosna se na tu notornu istinu već treba institucionalno spremiti.
A Dragan Čović – da prestane s tvrdnjom da BiH "ne mora" (?!) pratiti konačno usvojenu Strategiju vanjske politike, koja slijedi vanjsku politiku EU. S tim se, kad je Bosna u pitanju, nije šaliti, bez obzira na to što Evropa nije u svemu usaglašena. Mora se Čović, da ne govorim o drugima, odlučiti je li doista za "Europu", kako kaže, ili za "Jevropu", kako možda misli.
U američkoj analizi, a ova iz "Brookingsa" nije jedina, kaže se da će se Amerika vratiti "dubokom angažmanu" u pozitivnom oblikovanju Evrope na svjetskoj sceni. Priznaje se, doduše, da će taj američki angažman, zbog niza okolnosti, biti "teško prodati" na domaćem (američkom) terenu. Ali to je najbolji način da Evropa (p)ostane puni partner SAD, da bi se sačuvali međunarodni poredak, znana savezništva i otvorena globalna ekonomija.
Prosto k'o pasulj, što bi rekli u Beogradu!
Short URL: http://webpublicapress.net/?p=29282